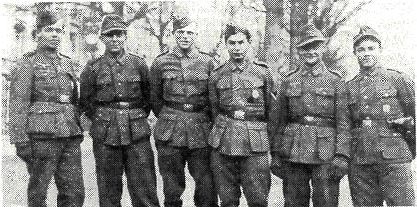 Six Pioniers from our Pionier Bataillon
They are part of 3./Pz.Pi.Btl.38 from 1944
Pionier Gruppe
The following standards apply to the Pionier Gruppe (squad). These standards on based on the sources listed at the end of this paper.
We are a late war unit (1944 and maybe 1945). The late war "they used anything they could find" excuse will not apply to us. If you think something is wrong you are going to have to prove it. For example, if you want to wear Italian camouflage you are going to have to prove that 2nd Panzer used it in 1944.
Required Items for Reenacting
| | | |
| --- | --- | --- |
| Helmet | Boots | Bread Bag |
| Tunic | Firearm | Zeltbahn |
| Shirt | Canteen | Mess kit |
| Pants | Y-straps | Gas Canister |
| Belt and Belt Buckle | Ammunition Pouches | |
You do not have to have all of the above items to go to your first battle.
* Indicates items that the typical Pionier in a 1944 Panzer was supposed to have.
() Indicates the number of this item that the typical soldier would be issued. We only have to have one of each required item.
Required Items
*Helmet (Stahlhelm) M-35, M-40 or M-42 no decals or only the eagle decal. (1)
*Hat (Feldmütze) M-43 M-34 M-42 no colored branch piping. (1)
*Tunic (Feldbluse) M-43, no M-36 or M-44 at this time. Research regarding the mix of different types of tunics and their color variation in a typical unit is still needed. You need pebbled buttons, enlisted man's breast eagle and late war "gray on gray" collar tabs. (1)
Pants (Tuchhose) M-43, M-44. Pants wear out much faster than tunics therefore later war pants (M-44) would likely be combined with earlier war tunics (I have gone through several pairs of pants in the last 7 years but I still have the same tunic). (1 sometimes 2 pairs)
*Shirt (Hemd) There are a number of reproductions out there. No white shirts (3)
*Boots (Marschstiefel) Jack boots enlisted man's style only. The Germans used hobnails in their boots. They don't have to be hob-nailed but it would be better if they were. An order dated 22.7.44 from Organisationsabteilung IIIa states that the Pionier and Infanterie were still supposed to be supplied with the jack boot as long as supplies lasted. The jack boot was the preferred boot of the German soldier. (1)
or
*Short Boots with Gaiters (Schnürschuhe) Can be used in place of the jack boots. They provide better support. Smooth bottomed boots are going to be a real problem in the field (you won't have much traction). So buy a pair with leather soles and have them hob-nailed by an old cobbler. If you can't get leather soles then get ones with low treads (i.e. tread that isn't high enough to be seen from the side). (1)
*Combat Belt with Buckle (Koppel mit Koppelschloss) Make sure you get a strong leather belt that will not stretch. (1)
Ammunition Pouches (Patronentaschen) One pair of 3 section ammunition pouches for the K-98k. One K-98k pouch and one G-43 pouch for the G-43.
*Bread Bag (Brotbeutel 31) Must be field-gray, olive-drab, gray or tan.
*Suspenders (Hosenträger) Used more than the belt. They must be close to the original.
or
*Belt (Koppel) M-44 type belt only.
*Y-straps (Koppeltraggestell) Must have correct WWII type hardware on them. Must also have the accessory straps. Forget about using the East German ones they do not have the correct hardware. (1)
*Zeltbahn Must be an original. (1)
*Cookpot (Kochgeschirr) Aluminium East German is acceptable. Must be painted proper color. (1)
*Gas Cannister with Gasmaske 38 The gas mask is not required. (1)
Rifle (Gewehr) German K-98k rifles only. Blanks tend to cause jams so you must have a cleaning rod. No telescopic sights on the K-98k except for the Zielfernrohr 41. This was the most common K-98k scope. Other scopes were given to specially trained snipers.
Light Machine Gun (Maschinengewehr) Either the MG-34 or MG-42. We really need machine guns. One per squad. We do not need a heavy machine gun.
Semi-automatic Rifle (Selbstladegewehr) G-43 or G-41. Second Panzer had both types in late 1944. You can even put a telescopic sight on it. I have one you can borrow. You will not be employed outside of the squad as a "Sniper" on separate missions. The sniper operates within the squad and he can like anyone else be detached for special missions. Only 1-2 semiautomatic rifles per squad.
Pistole Luger 08 or P-38. Only for the light machine gunner.
Maschinenpistole One or two per squad only. The squad leader is supposed to have one.
Equipment Needed Before You Take Your First Rank Test
| | | |
| --- | --- | --- |
| Stahlhelm | Firearm | Zeltbahn |
| Feldmütze | Seitengewehr** | Tent Equipment |
| Feldbluse | Feldflasche 31 | Koppel mit Koppelschloss |
| Shirt | Soldbuch | Koppeltraggestell |
| Tuchhose | Kochgeschirr | Patronentaschen |
| Marschstiefel/Schnürschuhe | Brotbeutel 31 | Gas Canister |
| Hosenträger or Koppel | kurzer Spaten/Klapphacke | Gasplane mit Tasche |
| | Erkennungsmarken | Mantel |
**only if you use the K-98k or G-43.
Additional Equipment Needed Before Your First Rank Test
Bayonet (Seitengewehr) The standard K-98k bayonet. Only for those armed with rifles. There was a shortage of bayonets in 1944-45 so not everyone has to have one.
*Gasplane mit Tasche A black, dark brown or blue nylon (there are other types of material) sheet 79 x 47 inches and folded into 80 squares and carried in a green, field-gray or olive-drab pouch. (1)
*Great Coat (Mantel) . (1)
Tent Equipment tent rope M1892, three tent poles M1901, and two tent pins M1929. This is straight out of Volume III of Uniforms and Traditions. Now all the tents you see in wartime photos are made out of 8 tent pins and 4 tent poles. So only 1 pole and 2 pins are required.
*ID Tag (Erkennungsmarken) Your Ersatz unit is stamped on here with your serial number and blood type. (1)
*Soldbuch Must be filled out correctly. (1)
*Short Shovels (kurzer Spaten) Everyone should have one (folding or straight) unless you have the Klapphacke or Drahtschere 42. (1)
Klapphacke Worn in place of the short shovel. 0-1 per squad.
Short Wire Cutters (Drahtschere 42) Worn in place of the short shovel. 0-1 per squad.
* Indicates items that the typical Pionier in a 1944 Panzer was supposed to be issued.
() Indicates the number of this item that the typical soldier would be issued.
All items must be approved by your squad leader.
Other Weapons We can acquire any other weapons that would have been used in a 1944 Panzer Division. For example an 8 cm mortar would fit into our organization as a Pionier unit but a 5 cm mortar would not fit anywhere in the entire division!
Awards If you are new to re-enacting you start with no awards. To earn medals you have to attend battles and fulfill the original medal requirements.
Rank You start out with no rank. Rank is standardized i.e., everyone of a certain rank will have re-enacted so long and know so much. Rank is earned based on battle performance and written and practical tests. We will not exceed our KStN for rank. For historical purposes we can factor in a 20% loss into the KStN.
Specialist Insignia Radio operator, driver etc., can only be worn if all the original requirements are met and if this specialist would be in our KStN.
If you take issue with anything written here talk to me about it. If you can prove something wrong do so and it will be changed.
Sources:
Kriegsstärkenachweisung 712 from 1.4.1944
Kriegsausrüstungsnachweisung 712 from 1.4.1944
Kriegsausrüstungsnachweisung 714 (f.G.) from 1.6.1944
Records of the 2. Panzer Division
Soldbuch from a 2. Panzer veteran
Volumes I, III Uniforms and Traditions of the German Army, Schlicht and Angolia.